dirk
About me
Born in Hamburg, Germany, Dirk Neldner studied German Philology and Political Sciences at the FU Berlin. He began his professional career in 1982 as business manager at "Junges Theater", and spent eight years building an independent theatre company in Berlin.
During nearly 10 years at carrousel Theater an der Parkaue, Berlin's state theatre for Children and Young People, Neldner was responsible for Marketing and Management and accumulated first experiences with international network activities. He successfully filled carrousel's application with the European Commission's programme "CONNECT" (1999-2001) for the project "European Schoolyard Stories at the Start of the New Millennium" and served as co-organiser of "Magic House", a precursor of "Magic-Net", which Neldner initiated later.
In 2001/02 he was appointed Cultural Adviser at the Theatre Academy Zurich, Switzerland, for one year.
From 2002 – 2008 Neldner has been leading the project "Magic-Net", linking theatres of the network to create international European co-productions and connecting professional artists with young people in educational programmes.
From 2008 – 2009 Neldner was cultural adviser of the mayor of the city Frankfurt (Oder), Germany. He developed the anniversary program for "Kleist 2011", a national commemorative year for the writer Heinrich von Kleist, who was born in Frankfurt (Oder).
Since May 2009 he is the project leader of "Platform 11 plus – Artistic Discoveries in European Schoolyard".
Further activities involved the publishing of a monthly theatre magazine "Theater in Berlin", and teaching Arts Management at prominent academies in Switzerland, Austria, and Germany. Since 2004 he is lecturer at the Europe-Universtiy Viadrina in Frankfurt (Oder), Germany. Dirk Neldner was appointed chairman of EUnetART (European Network of Arts for Children and Young People), located in Amsterdam, the Netherlands, in 1997 (till 2004).
Avatar-Image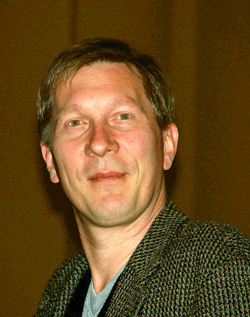 Last Login:
17. August 2014 | 15:08
Last Access:
17. August 2014 | 16:08